You might ask yourself this question is kayaking difficult?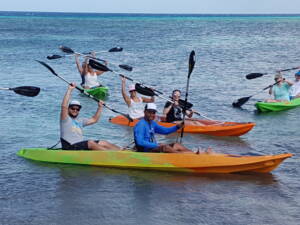 You booked your dream vacation to the beautiful Island Aruba and you want to book a Clear Kayak Aruba tour, but you are afraid kayaking is hard to learn and think that it requires athletic strength to do, but is kayaking really so hard?
Reckoning that kayaking in the Caribbean Ocean will subject you to grave danger should your kayak tip over. You have done your research and found out that Aruba has constant winds all year long and you calculate possibility of rough waves and intense winds, but is this so difficult that you can't do it?
We will try to answer those questions to the very best of our abilities and in the end we hope you can overcome the doubts and fears, to book a kayak tour with us and or venture in a watersport activity while visiting Aruba.
Do I need athletic strength to kayak?
Kayaking as with any sport is not for everybody but kayaking is not at all hard to learn. It would surprise you that 90% of the Clear Kayak Aruba guests are first time kayakers. You only need a few basic skills to paddle effectively. The key to learn to kayak the right way is that you need a good instructor.
The instructor needs to teach you: #1how to get in and out of the kayak #2how to hold the paddle #3preform a stroke effectively and #4how to turn.
Most of the strength to kayak comes from your core and trunk and furthermore you need good support from your legs to balance the kayak. You need to follow through with the strokes from the core.
As you are paddling, remember always to pay attention to what's happening in your arms. If they feel sore and tired as you paddle, then you most likely are not using your core adequately.
Most beginners understand the concept almost immediately.
Do Kayaks tip over easily is it hard therefore to kayak?
Not all kayaks are built the same. Some tip over easily, some don't. The trick is usually to pick a vessel proper for the water conditions you are venturing in. The kayaks offered on our tour are very stable for beginners. This is very noticeable when you get in and start to paddle, they will not tip over easily. 
What if your boat tips over? Well to start with all guests must wear life vests and all paddles float. Plus gravity will help you fall out of the upside down. A good instructor will be able to get you back on your kayak in no time using simple techniques. This is the reason you need to know for sure you are on the water with professionals that know what they are doing.
The beach can be very relaxing, and you can forget responsibilities at least for a while and enjoy the calming effects of the sun, sand, and water. Also, a trip to the beach has many health benefits.
High Winds
First of all, if you are booking a kayak tour the tour operator monitor the water and wind conditions and should these be too rough for beginners they will surely cancel the tour. But a little wind and adventure on the Aruban seas always make good vacation stories. Aruba has a constant wind and from time to time at sea this can creep up while kayaking. Sea Kayaks are made to withstand average windy conditions and your instructor should be there to guide you.
Remember no matter how much preparation the water and wind are always kind of unpredictable and you should be prepared for that.
At Clear Kayak Aruba we offer stable, comfortable and safe kayaks that will make your tour memorable. You still have your questions or doubts about kayaking? Feel free to contact us with any doubts or questions you might have.
Read also our blogs:
Why is a vacation in Aruba Therapeutic?