ABOUT US
The Clear Kayak Aruba Story
THROUGH THE DAY A PADDLE AWAY THE CLEAR KAYAK ARUBA STORY
Clear Kayak Aruba was founded in 2016 by Zenon Croes and Eco Tourism enthusiast.
Zenon is born and raised in Aruba and a nature adventurist that was introduced to Kayaking by friends. After the first paddle Zenon became hooked and soon after that he acquired his first kayak.
After some years of wild kayaking on Aruba's pristine blue seas Clear Kayak Aruba was born. Base of the tour business is a quiet fisherman's town known as Savaneta. Zenon is a radiologist tech by education but a nature kayak adventurist by heart.
What an adventure is has been for Zenon and his wife Jurima since the early days of 2016. The business has a constant growth and evolution. Tour guides are trained to offer only the best experience.
In the current way of life, going fast and digital are the new norms. Sometimes we forget to relax and enjoy what nature offers us.
It is Clear Kayak Aruba's mission to offer quality tours with quality equipment led by people of excellence while focusing on preserving nature.
April 2023- Lee and his partner were excellent tour guides. Knowledgeable about the wildlife we experienced. Very easy going and fun to spend the time with. Would recommend this tour to others.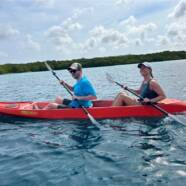 Nov 2022 - Amazing experience. Lee and J.D. were super friendly, informative, and awesome. The water is beautiful, and the experience is a must if you're considering to do it.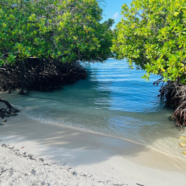 Feb 2023 - The kayak were very stable and it was a new experience with the clear bottom.
We wore life jackets for safety and the tour guides, Lee, JD & Richard, were excellent, explaining the history of the mangrove portion of the island.
We were able to handle & touch the non poisonous jelly fish.
The time on the water was perfect so we could enjoy the rest of the day.