Hidden gem in Aruba
Hidden beach in Aruba – One on the reasons Aruba is so popular as a vacation destination especially during winter is because everyone loves going to the beach and Aruba has plenty of beaches where you can spend endless hours relaxing, go for a swim or book a watersport activity like a kayak tour if you'd like to.
But why do people enjoy going to the beach so much?
The beach can be very relaxing, and you can forget responsibilities at least for a while and enjoy the calming effects of the sun, sand, and water. Also, a trip to the beach has many health benefits. Read our blog regarding #Beachtherapy to see all the benefits of going to the beach.
Cocos Beach known locally as Rodgers Beach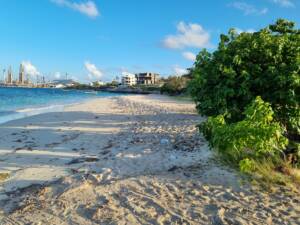 Located just a few miles from the very popular Baby Beach you will find the less popular beach named Cocos Beach and known to locals as Rodgers Beach. Rodgers Beach is less crowded and you will have especially during the week most of the beach to yourself. Here, you can enjoy more privacy because there are fewer crowds.
There are public beach huts with that you freely use to enjoy an oceanfront picnic with your family or friends.
Enjoy the many shades of Blue
which brings to mind feelings of serenity in most people, so submerging yourself on this tranquil beach while in Aruba by the blue waters can help you bring calmness your mind. The air just smells different at the beach.
So when thinking about the many beaches in Aruba we recommend you to swing by Rodgers Beach and just take in the Vitamin Sun and Blue Therapy.